A Clue to the Clue

by Mark Pepe






There once was a person of legendary fame
Who called themself "Legerdemaine."
Shrouded in mischief, magic and mystery
Those boxes and stamps have such a unique history
Of excitement and wonder galore.

There also was a boxer from Connecticut named Mark
Who loved to go boxing with Sue park to park.
In late October, Opus #130 did he find
With his family who were not far behind.
Now this great find really made Mark's day
"Now I understand!" his sister would say.

When Mark & Sue returned to their home
Straight to their computer room they did roam
And what was found made them both kind of shiver,
Shake, quake and really start to quiver.

For upon their screen, within the Inbox
Much to their amazement, bewilderment and shock
Was an email unopened from that enigma de Maine
Whose Opus they had just solved and made Mark go insane.
So with shaking hands and with bated breath
They opened this wondrous, marvelous bequest.
This is the message that they did meet,
"Nota bene - Another exclusive for your letterboxing gossip sheet."

For attached to the email was a marvelous clue
To a box that was both exclusive and new
Wrapped in mystery, excitement and fun.
So come all ye boxers, come one by one
To our own humble letterboxing pages.
Where we hid this clue for you boxing sages.

We thank all of you for searching out this clue
But mostly our thanks go to Legerdemaine!!!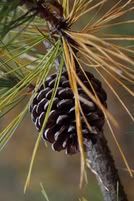 All material contained herewith
has been copyrighted by Pinecone Productions